My latest Buck Store purchase
10 smooth triple edged razors.
Suggested price of $2.99.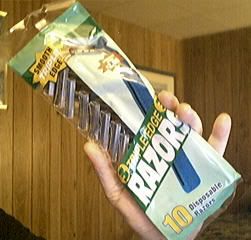 They were made in China so you know they have to be good because we all know what tough beards the Chinese have.
There is also a warning on the back of the package to keep out of reach of children, which I wholeheartedly agree with, because I think most children start shaving way to young.
Do you remember the SNL parody about triple edged razors that they did back in the 70's?
Talk about life imitating art.